SandFest 2019
This event has been cancelled for 2019 due to the forecast of heavy rain.
When: Wednesday, July 17th, 2019 between 09h30 - 12h00 (Rain Date Thursday, July 18th)
Where: In the Outlet Sector of the Park, opposite Parking Lots P1/P2 (see map below.) Arrive early!
Cost: Suggested donation of $5.00 per family (all donations help fund the Friends of Sandbanks in their volunteer actvities; all monies stay within Sandbanks Park!)
What to bring: Pails, spades, imagination, and enthusiasm, and happy children!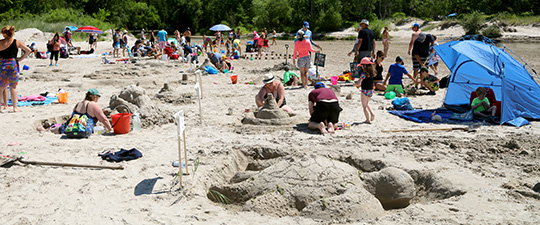 What's It All About?
Bring your shovels and pails (and pals!) to join us for this Eleventh Annual Sandfest sand sculpting event. Whether you are a traditional castle-builder, or prefer to unleash your talents on mermaids, alligators, whales and the like, the more fantastical the better!
Please join us at this popular family event. Who knows, Canada's next budding sculptor might be found here honing their skills in this fun and forgiving medium!