Lakeland Point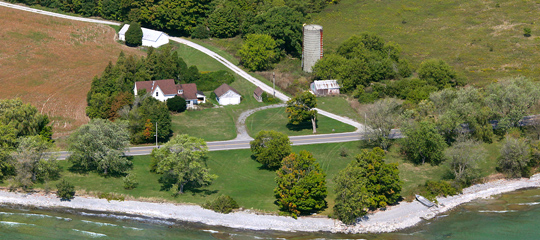 Aerial view showing the former MacDonald Farm house at Lakeland Point; Image 12-3266, John A. Brebner
Description
Once the site of the bustling Lakeland Lodge, one of the more popular sandbanks tourist lodges that thrived during the latter part of the late 19th and early 20th centuries, this green and shaded site along the shores of Lake Ontario is perfect for picnics away from the crowds on nearby Outlet Beach.
Featuring interpretive plaques funded with the help of the Friends of Sandbanks, visitors can get an idea of what the area was like since it was cleared for the MacDonald Farm in the early 1800's, and the subsequent Lakeland Lodge later in the century.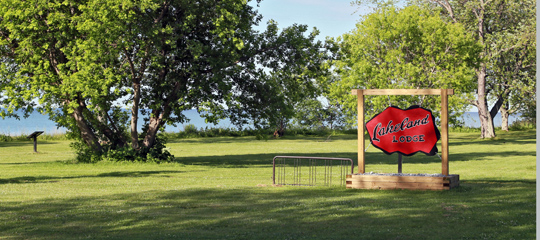 Lakeland Point, Sandbanks Park; Image 15-7831, John A. Brebner
Facilities
Lakeland Point features a large grassy area along Lake Ontario ideal for picnics. There are no washroom facilities.
Parking is on site; pets may swim off the beach here.
Bicycle racks provided by the Friends of Sandbanks.
This is a Day-Use Facility only (07h00 - 22h00). Overnight camping is prohibited.
Please note: Lifeguards are not present at any Sandbanks Park beaches. Parents and/or guardians are solely responsible for their children's and/or guests' safety.