Who Are We?
The Friends of Sandbanks was incorporated as a not-for-profit charity on February 4, 1993. We are entirely a voluntary organization. Our board of directors has 6-8 members and several committee chairs. Committee chairs choose and display Nature Shop inventory, keep track of membership, run specific events in the park, maintain our Facebook Page and Website and our regular informational bulletins.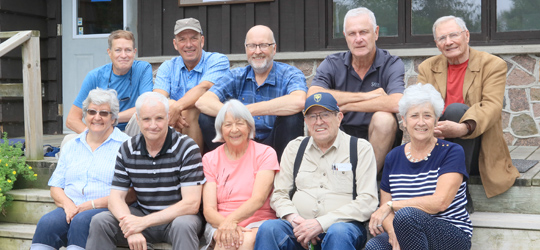 Friends' Board, June 2017; back row, left to right: John Brebner, Fraser Hardman, Mark Despault (Chair), John Drechsler, Charles Lacey; front row, left to right: Penny Sipkes, Don Metcalf, Agneta Sand, Brian McLaughlin, Janet Mooney. Absent: Matt Young; Image 17-9043, John A. Brebner
Our Mandate
To undertake specific projects and initiatives such as providing educational and interpretive publications, maps, audio-visual materials and other appropriate items related to Sandbanks Provincial Park.


To encourage and support further research of Sandbanks Provincial Park's natural and historical resources for public information as well as to protect and restore these natural resources.


To supplement and enhance existing park educational, interpretive and recreational programs.


To stimulate community interest and understanding of Sandbanks Provincial Park to help ensure the protection of its natural and cultural resources.


To aid and enhance the Discovery Program,(formerly the Natural Heritage Education Program), recreational facilities and services for visitors and the research and resource protection programs in Sandbanks Provincial Park.

This may be accomplished through enhancing the physical surroundings, improving accessibility, natural awareness and sponsoring a variety of both educational and children's activities within the Park.


Background
Years ago, the Sandbanks' Management Plan identified the need for an interpretive trail through the dunes system to help protect its fragile environment. This Dunes Trail (add link) now provides education on the formation and natural ecology of the area. The keen interest in supporting this trail became the first major project for the newly-formed Friends of Sandbanks.
Keeping in Touch
We now send regular email updates of all new information that is published regularly on this website to all our Friends.

Our website is consantly being updated to better reflect the Friends' many activities, including photo albums showcasing the beauty of the Park, as well as detailed histories and genealogies of the County. To understand today's Sandbanks, one needs to know how the early settlers in Prince Edward County lived and farmed.


Contact us via email: media_relations@friendsofsandbanks.org
Regular mail address:
Friends of Sandbanks Park
P.O. Box 22007
97 Main Street
Picton, ON K0K 0A0
Become an Annual Member