Monthly Information Bulletins
Newsletters
In 2017 we discontinued publication of our annual/twice annual newsletters in favour of a monthly emailed update of most recent events, descriptions and links to our newest website information. We encourage our readers to receive our free monthly "What's New at the Friends of Sandbanks" bulletin, especially in this sesquicentennial year, when the Park is expected to be even busier than usual.

In place of our advertisers business card placements in those newsletters, we plan to add a separate page for each advertiser to our site, found in the Our County Friends section of our website.

To locate articles about specific topics, we recommend that you use the internal Google website search, located at the right.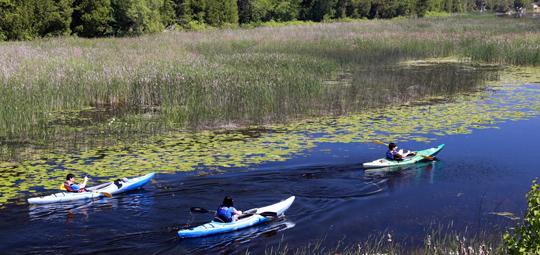 Kayaking in the Outlet River; Image 13-6406, John A. Brebner, 2013
Archival Newsletters
2016
2015
2014
2013
2012
2011
2010
Watch this page for other archival newsletters that will be appearing here once they have been digitized.