Friends and Students Plant 150 Sugar Maples!
Tuesday, May 9, 2017
With the help of environmental studies high school students from Prince Edward Collegiate Institute, the Friends of Sandbanks planted 150 sugar maple trees along the Woodlands Trail that winds through now retired farmlands within the Park. These trees will grow to provide a canopy of shade for future visitors and their children to enjoy this part of the Park's farming heritage.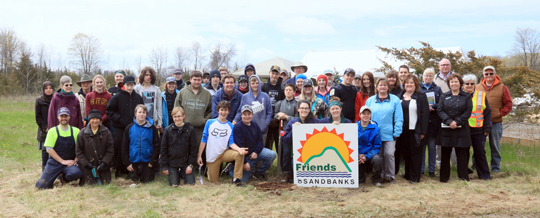 Group of Friends, sponsors and students during event; Image 17-6308a, John A. Brebner
Sugar maples provided early settlers to the area with a source of both nourishment and income before the start of the spring growing season. Maple sugar is still being produced and successfully marketed around the County today.
A return to what was once an area of densely forested hardwoods in the area, this planting project is just one of many re-forestation initiatives supported by the Friends of Sandbanks over the past twenty years.
In previous years, The Friends and the Park have planted butternuts... as well as companion evergreens throughout the Park.
Two panels that will be part of the finished project along the trail.
While Todd Smith, MPP for Prince Edward Hastings was unable to attend, he sent congratulations from the Government of Ontario through Sandra Smith, adding that:

" It doesn't get too much more Canadian than maple trees!"
This project, as part of Canada's Sesquicentennial celebrations, was completed with the financial assistance of the Province, the County Community Foundation and the TD Bank. Along with these sponsors, the Friends of Sandbanks wish to acknowledge the support of Picton Home Hardware, Sobeys, and Picton No-Frills for their help in making this community event such a success.
Left: Students after planting session; Right: Park Superintendent Robin Reilly instructs the students on the planting procedure; Image 17-6913, John A. Brebner
As Friends of Sandbanks Chairman Mark Despault said at the event,

"These trees will be a reminder to your grandchildren of the commitment that the Friends of Sandbanks have to the Park."