Dunes Boardwalk Project 2019
The Friends embarked on a major accessibility project in 2018, by helping fund a new raised boardwalk connection from the Dunes Beach to the nature trails and the world-famous dunes at West Lake.

Several years of high water, have left the original path often submerged to mid-thigh depth, making it inaccessible for those with mobility issues and inconvenient for families with small children.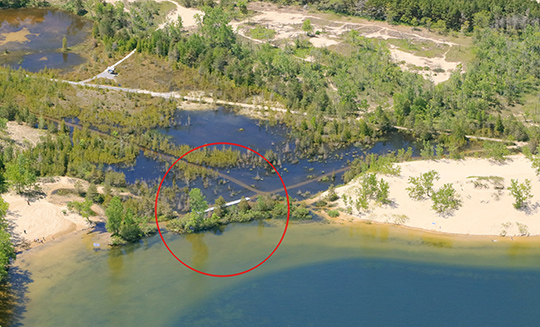 These sturdy boardwalk sections are made from recycled plastic manufactured by Hahn Plastics, and are expected last up to 50 years.

The first section was installed in 2018, the next section is now in place as of fall, 2020. We anticipate that our support for this worthwhile accessibility project will continue for at least two more years, with a completion date of Summer 2022.

Click on any image to view/download a higher-resolution version.
For non-profit use only; please respect our image copyright.


2021 Boardwalk Progress
October 1st, 2021 Boardwalk Progress
October 13th, 2021 Boardwalk Progress
All images © 2021 , John A. Brebner/Friends of Sandbanks