Lakeshore Lodge Day 2019
When: Wednesday July 10, July 24, August 7, August 21 13h00 - 16h00 (four events this year!)
Where: Lakeshore Lodge site, West Point (see map below)
Cost: Free with Park Entry Fee
What to bring: Family and friends from toddlers upwards!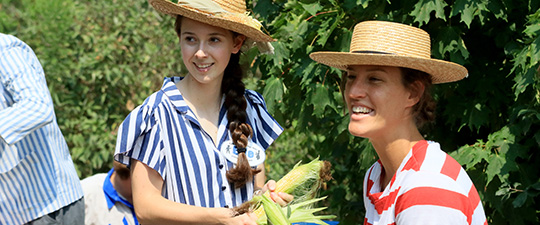 Park Discovery students Elle and Michelle prepare for the corn roast; Image 17-3784, John A. Brebner
What's It All About?
This popular event in the form of an 1890s-style picnic features games, music, a corn roast with lemonade and hayrides around this historic part of the Park has something for all ages.
The Lakeshore Lodge was first built as a simple summer retreat for local tourists wanting to spend time near the fabled sand dunes of West Lake. Its popularity spread over the decades leading into the 20th century, and soon the simple lodge became a first class hotel, offering accommodation for tourists from as far away as Toronto and New York State.
Sadly, the lodge burned in 1983, just as studies for a restoration were being undertaken.
Today's visitor can enjoy this beautiful spot, and explore the remains of the old lodge.
Tug-o-war at 2018 Lakeshore Lodge Day; Image 18-07840; John A. Brebner
Have a look at a more detailed and illustrated history of the Lakeshore Lodge...
Please check our Facebook Page a few days before for any event updates!